(2022.0.0) Storage Locations
Setting and Customizing Storage Locations
Storage Locations allow users to control where Project data sits and how drive storage is consumed. Example use cases may include:
Installing Cyclone ENTERPRISE on the same drive as the operating system (standard), but maintain all project data on high-speed SSDs for maximum performance when accessing (visualizing, streaming, and querying) Projects.

Easily expand storage capacity as Project lists grow by attaching/mounting new drives

Isolate Project data based on End-Users/Customers
Using the provided tools, it is possible to add, nickname, set default status, or remove storage locations on the server.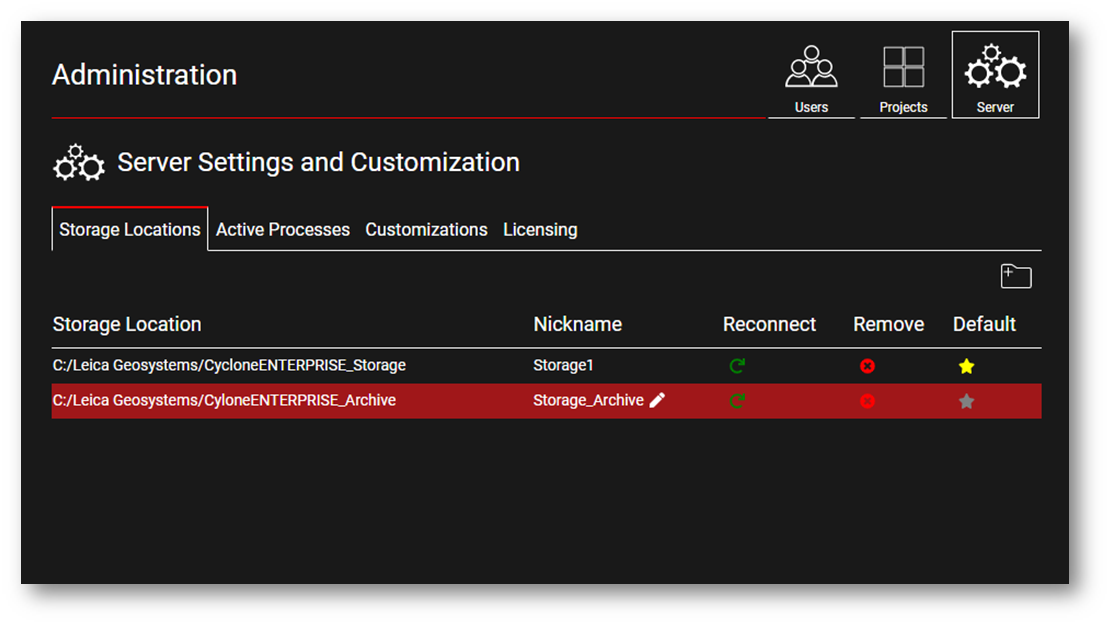 Adding Storage Locations
Cyclone ENTERPRISE provides flexibility on setting Local or Cloud storage locations.
Storage Locations are defined at the folder level, so it's possible to have more than one location on the same physical drive.
Storage Locations can only be located on mounted drives, visible to the Windows operating system Cyclone ENTERPRISE is installed on (i.e., a lettered drive). If you are deploying Cyclone ENTERPRISE on a cloud-based service (e.g., AWS), you will need to follow the instructions for the cloud service provider on how to do this. There are no limits to the number of Storage Locations that can be added.
Note: At least one Storage Location must be added to the system before any projects can be imported or published to Cyclone ENTERPRISE. At first login, the Root user will be prompted to add a Storage Location; if the Root user does not, they should create a Supervisor or Admin-level user who will.
Adding Local/Network Storage
A new storage location can be added using the "Add Storage Location" button. To add a new location, select a folder in the server storage dialog then click .

To create a new folder instead of selecting an existing folder, click the "add" button and type a folder name then click "Ok" .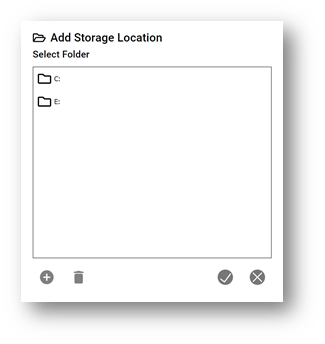 A storage folder gets a nickname for easier identification. Nicknames are automatically assigned in numerical order for which the location is added. To change the nickname, click on the storage in the lost and click "Edit" .


Adding Cloud Storage
For details on mounting cloud storage to an Amazon instance, please refer to the AWS documentation at https://aws.amazon.com/premiumsupport/knowledge-center/attach-ebs-running-windows/.
Removing Storage Locations
To remove a storage location, click on the "Remove" button.
Note: Cyclone ENTERPRISE will not allow you to remove a Storage Location if it has Projects associated with it. You must first either delete the projects in the Storage Location from Cyclone ENTERPRISE or move the projects to another Storage Location. Once no projects remain, you may remove it.
Reconnecting Projects in a Storage Location Folder
Use the "Reconnect" tool to reconnect selected or all projects in the folder. The folder can be on a drive mounted on the server machine or a NAS drive accessible to the server machine (same as JetStream Enterprise).

This feature is utilized when users upgrade from JetStream Enterprise to Cyclone ENTERPRISE (see Compatibality & Upgrades Section).
Setting the Default Storage Location
You may set a storage location as Default by clicking the "Set Default" button. Making the storage default will remove default settings from the existing default folder.

When a user imports or publishes a Project to Cyclone ENTERPRISE, they are providing the option to choose the Storage Location to which it will be added. The current Default Storage Location will be automatically populated here, but the user may choose another available location from the drop-down menu.